First Prize: ACASPA Annual Awards for Excellence
Complete Shade Solutions (CSS) was thrilled to be asked by Billabong Shade to design and install a large shade structure at the Frankston Skate Park. The budget was tight and the client had a large number of objectives that needed to be met. The design brief included a desire for a design that reflected and appealed to the skateboadring -surfing culture of facility users. Other key requirements were that the design be as vandal resistant as possible and "spectacular" in order to stand out during televised events. CSS carried out extensive consultation with the users of the skate park and high scale computer modelling of shade patterns during the day on site, before coming up with a 'standing wave' design which works with the direction of the sunlight to create a large shaded area.
Billabong Shade was thrilled with how smoothly the installation process happened. All components, including the canopy, fitted beautifully. The translation from drawing board to workshop to site to project completion was a joy.
The excellence of the design was recognised by the Australian Canvas and Synthetic Products Association (ACASPA) when the project was awarded First Prize in Category Shade Stuctures: Domestic and Commercial tension or framed structures using shade cloth.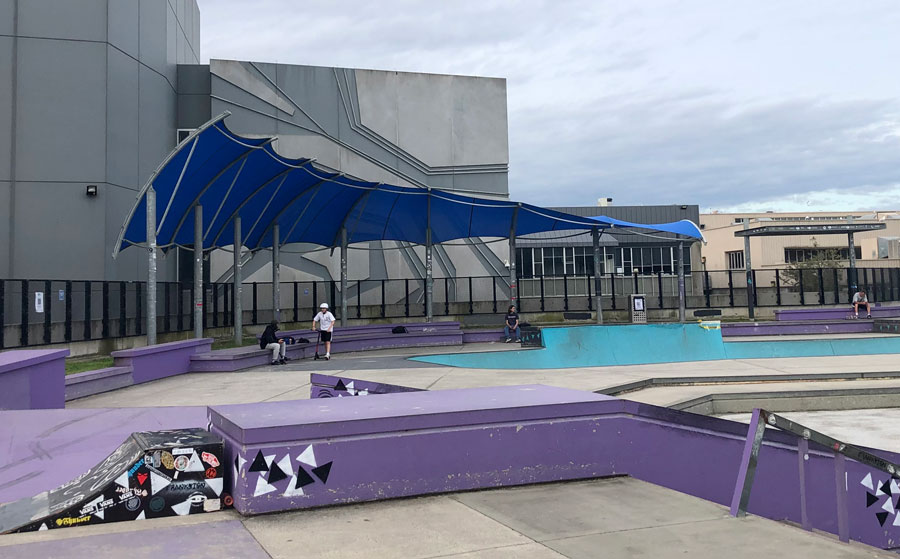 Architectural Sails & Shade Structures for the Mornington Peninsula & Beyond
Providing shade solutions to Melbourne & effective technical expertise for the shade industry.
Shade Sails | Shade Structures | Domestic Shade Sails | Commercial Shade Sails | School Shade Sales | Blinds & Awnings | Swimming Pool Shade Sails & More!
Servicing the Mornington Peninsula & Melbourne areas including:
Mornington, Mount Martha, Mount Eliza, Portsea, Sorrento, Dromana, Red Hill, Blairgowrie, Rye, Hastings, Somerville, Safety Beach, McCrae, Frankston South, Frankston, Bayside Suburbs & Greater Melbourne.