Frequently asked questions
With so many options available it is easy to get confused about which direction to go. Unravell the mystery of shade and find out what really suits you or your business. Look at some answers to common questions here….
What is the best shade solution for me?
We can find the best solution for you by working with you to address your needs and wants.
Complete shade solutions is an outcome focused business which works with innovative design to deliver the best possible outcome for our clients.
How tight should my shade sail be?
CSS installs sails so that they are as tight as a drum, with no wrinkles or sagginess. If a sail is able to flap in strong weather there is a very real chance that strong wind will create huge pressures on fixings. Fixings may come loose, causing damage to whatever they were fastened on to, which may be your house. Sails attached to guttering can lead to whole gutters coming loose in high winds. Our fixing points are either independent poles with secure footings or are securely tied into the structural elements of buildings.
What permits do I need?
Your local council may require planning and building permits. Contact them for more information.  We are happy to offer advice and assistance with completing permit forms.
For further information see the Victorian Building Authority (https://www.vba.vic.gov.au/surveyors/building-permits)
Will my sail be waterproof?
A well tensioned shade cloth sail will deflect some rain. Complete waterproofing can be achieved with a PVC fabric. We are happy to work with you to establish your waterproofing requirements and to design the best solution.
How will strong weather affect my sail?
With extensive experience and technical knowledge, Complete Shade Solutions designs all shade structures to deal with the expected weather events.
Why are there so many pictures of 4-sided sails on this webpage? I thought most sails were triangles.
When you see a sail from the ground it often looks like a three sided sail, even though it has four. This is shown in the pictures below. Differing the height of the posts to produce a hypar twist creates a lovely dynamic effect and allows us to maximise the amount of shade given. From some angles four-sided sails that are on a hypar twist will look like triangles. Three-sided sails can be used to give a nice visual effect, however if shade or privacy is required we do not recommend them.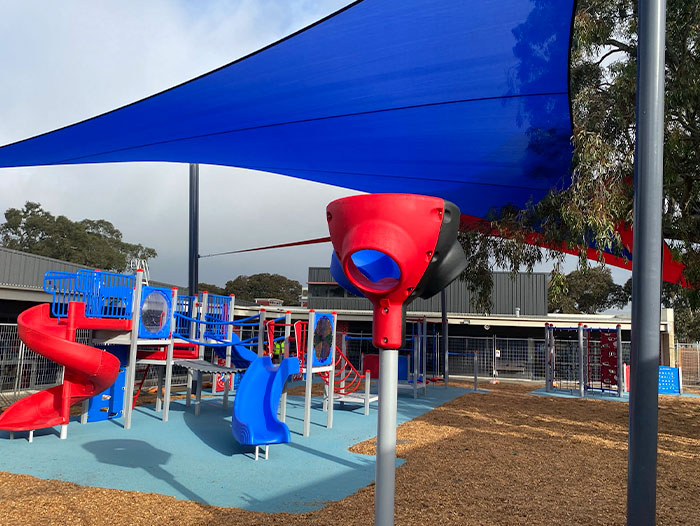 Architectural Sails & Shade Structures for the Mornington Peninsula & Beyond
Providing shade solutions to Melbourne & effective technical expertise for the shade industry.
Shade Sails | Shade Structures | Domestic Shade Sails | Commercial Shade Sails | School Shade Sales | Blinds & Awnings | Swimming Pool Shade Sails & More!
Servicing the Mornington Peninsula & Melbourne areas including:
Mornington, Mount Martha, Mount Eliza, Portsea, Sorrento, Dromana, Red Hill, Blairgowrie, Rye, Hastings, Somerville, Safety Beach, McCrae, Frankston South, Frankston, Bayside Suburbs & Greater Melbourne.